My HOPE and FAITH in Jesus during COVID-19

"He who dwells in the secret place of the Most High shall abide under the shadow of the Almighty.  I will say of the LORD, 'He is my refuge and my fortress; My God, in Him I will trust.'  Surely He shall deliver you from the snare of the fowler and from the perilous pestilence." (Psalm 91:1-3 NKJV)


I started my mission with Kosovo Force (KFOR) at the end of November 2019. In February 2020, the coronavirus crisis hit. I did not pay much attention to it initially, however, as time progressed, it was almost impossible to ignore the reality of the pandemic. Kosovo was one of the few fortunate places that did not have any coronavirus cases for the longest time. However, the situation quickly changed and on March 13, 2020 the first 2 cases were confirmed in Kosovo with the number of people getting infected growing steadily. Updates focused on the number of newly infected people and the number of deaths. Our mission's focus quickly turned to fight the coronavirus crisis and to help the institutions in Kosovo with personal protective equipment such as masks and gloves. Social distancing soon became the norm for KFOR so that we would not spread the virus. When people were asked "How are you?", most said "good" as the standard answer, however the fear was becoming more and more palpable and I could sense it was spreading.

Soon I began to ask myself how should I as a believer in Jesus Christ act in this situation? In a situation in which I deal with people from different cultures and religious beliefs? How far can I go to share with others why I was not worried about the virus or about me getting sick without sounding arrogant or crossing the line, but at the same time being obedient to Jesus?

As the fear continued to spread and some of my comrades got sick, and some even tested positive, I recall one evening, it was Good Saturday, that even I was hit by fear. That day the decision was made that we all had to wear masks when walking around. People who had bathrooms in their living quarters had to move to quarters with shared bathrooms so that those with symptoms, or people that were already infected, could move into the ones with private bathrooms in order to be quarantined and therefore lessen the chances of spreading the virus. More tents were set up on base to have room to quarantine those infected. Doctors and cleaning personnel were now wearing full body protection equipment.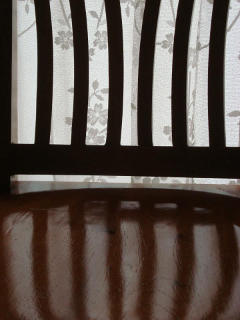 Witnessing all of this suddenly started to make me feel uneasy. The situation progressed from one day to the next. Although I felt good all day long, that evening I suddenly started to feel feverish and I thought the symptoms that people had talked about had come upon me. Immediately, I reached out to a close friend, and we prayed that very night. My symptoms were gone as soon as we finished praying. The next morning, my fear was gone as well. My friend reminded me to turn my fear over to God by taking to heart the words of God in Psalm 91; and my fear disappeared. "I sought the LORD, and He heard me, and delivered me from all my fears." (Psalm 34:4 NKJV)

I was torn between believing God's promises and listening to negative updates all day long. However, the fear I had experienced that night was gone. I was fortunate that I had built up my faith before the situation got bad. Let me explain:

I had just finished taking an online course from January to April 2019, through Western Seminary, as part of my Master of Divinity program. In this particular course I read the Old Testament from Genesis to Song of Songs. Taking that course during this particular time really helped me. One of the lessons I learned was that it is better to strengthen yourself before the "battle", than during the "battle." As a soldier, I knew that preventive measures are always much better than trying to defend. I discovered that fear could actually be prevented by reading and meditating on the Word of God, so that when the "battle" came, I was not afraid.

It was then possible to strengthen myself to where I didn't have any fear. God actually commands us to not have fear: "Fear not, for I have redeemed you; I have called you by your name; you are Mine" (Isaiah 43:1 NKJV). The phrase "fear not" is used numerous times in the Bible, most likely because He knows the enemy uses fear to decrease our hope and limit our victories.

Another good friend of mine from my church in Portland, OR, Donna, was also instrumental in helping me let go of my fear. She prayed with me and reminded me that Jesus said, "Peace I leave with you. My peace I give you. I do not give to you as the world gives. Do not let your hearts be troubled and do not be afraid". (John 14:27 NIV). Jesus commanded us to not let our hearts be troubled or fearful. What other reason do we need to turn away from our fear?

On April 22, 2020 all of us had to get tested for the coronavirus. Before the testing, we received instructions to pack one bag with the most important stuff so that we only had to grab our bag and go into isolation if the test result was positive. I started to pack some of my stuff, but as soon as I got started, I decided to stop packing. If I truly believed in God's Word that "no harm will come to you; no plague will come near your tent. For he will give his angels orders concerning you, to protect you in all your ways" (Psalm 91:10-11 CSB), then my actions needed to line up with my belief. I said to myself that if I have fear, then I don't have faith. If I have faith, I don't have fear. I am truly convinced that God wanted me to learn to trust Him more, and so I chose to trust Him.

If you are an unbeliever or a Christian suffering from fear or anxiety due to this pandemic, I challenge you to turn to Jesus and invite Him into your heart right now. Ask him to replace your fear with peace, a peace that can only be found through a personal relationship with Jesus Christ.

"Humble yourselves, therefore, under the mighty hand of God,… casting all your cares on him, because he cares about you" (1 Peter 5:6-7 CSB).
Would you like to make Jesus the Lord of your life too?
If so, you can pray this prayer - Lord Jesus, I believe you are the Son of God.  Thank you for dying on the cross for my sins and rising again.  Please forgive my sins and give me the gift of eternal life.  I ask you into my life and heart as my Lord and Savior. Please help me grow in you and live for you. Thank you for coming into my heart.
If this message has touched your heart, please let us know your response from the following options:
1. Yes! Today I chose to trust in Jesus: Please click here.
2. I already trust in Jesus and would like to grow in my faith: Please click here.
3. I am still seeking: Please click here.