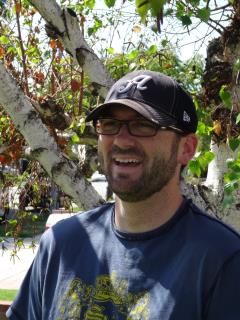 Hi everybody, my name is Seth.  I am 33 years old and work as an engineering technician for a municipal public works department.

I was born in Modesto, California and grew up in rural Turlock, the second largest city in Stanislaus County and, incidentally, the birthplace of Foster Farms poultry.  My parents chose to live and raise my two older brothers and me in a rural setting, on a small ranch.  We had our own pigs, chickens, and cows.  My Dad was a truck driver and my Mom was a stay-at-home mother.  The first ten years of my life were the American ideal: my parents were in love; my grandparents lived nearby and we would sometimes go to church with them; my parents and my two older brothers and I attended a neighborhood church almost every Sunday; we each had our chores and ample time to play; and we could tell that our parents loved us and we felt very secure.

Sadly, things changed over time.  When I was 10 years old, my Mom, with tears in her eyes, told my brothers and I that her and Dad would be getting a divorce and that Dad had moved out of the house.  She felt betrayed and her heart  broke.    I couldn't believe what was happening.  Some of my friends had gone through divorce, but I never envisioned that it would happen to my parents.  I had never before felt such devastation, and my heart was crushed.  One thing that I learned in church and from my grandparents was that when you're in trouble, you pray to God and He will help you. I believed in God but had never really asked Him for anything important. I cried out to Him, "God, if you're real, please bring my parents back together."  My parents had separated, but I knew Mom still loved Dad.  She started attending a class at church for couples in crisis.  Eventually, my Dad agreed to attend the class with her.  Through the class, my parents were able to reconcile with each other, and soon, Dad moved back home with us.  This helped solidify my faith in God. 

My family then started attending a large church located in Modesto, California.  This church had a large staff and many programs for adults and children alike.  I got plugged into a youth group where I was regularly exposed to Bible teaching and the good news of Jesus Christ.  In a short time, I recall accepting Jesus as my Lord several times, but did not understand what it meant to have a relationship with Jesus.  Although I had no school friends at this new church, I had a happy life.  I poured myself into my studies and graduated with honors from high school.  I decided to stay close to home, work part-time, and attend Cal State Stanislaus. While going to school, I became friends with a girl from my US Government studies class.  As we talked, I found out that she was leading a Bible study at the same large church I was attending.  My attendance at church then became more frequent as I attended her Bible study.  Over time, we started dating, we got engaged, and then planned to marry.  My parents wanted me to finish my studies before getting married, but I was determined to move out, get married, and work full-time to support her and I until we finished our degrees.  The months leading up to our wedding were extremely busy and it was a stressful time in our lives. My wife's Bible study dissolved, her father unexpectedly passed away, and because of changes at church, we gradually stopped attending church altogether.  Things did not get better once we were married.  With the strains of a new marriage and trying to figure out our roles in it, the long hours of working, the short hours of getting any sleep, my wife and I started to argue about many things.  My wife was the stronger leader and I was content being a follower, but we discovered that that was not God's design for marriage and it caught up with us.  Instead of growing my faith in God, my wife slowly walked away from Him with me in tow.  We both fell away from God, with me passively leading the charge, and our marriage was beginning to crumble.

After struggling in our marriage for several years, and continuing to not attend church or seek God, things only got worse.  When I was 25 years old, I remember receiving an unexpected call from my Mom.  She was crying.  My Dad left my Mom. Again. The pain that I felt as a 10-year old boy revisited me and I became very bitter.  In order to "medicate" myself from the pain, I started drinking, staying out late at night with my friends, partying all the time, and living life recklessly.  I led my wife into this worldly lifestyle and our already frayed relationship started to unravel.  I wanted to get away from the pain I was feeling in one way or another.  My wife, also, longed to return to Southern California, where she had spent the majority of her childhood.  She began encouraging me to apply for jobs in Southern California.  I agreed to apply for a job in a Los Angeles suburb, and to my surprise, I did an initial phone interview with the hiring department.  Then, my wife and I had an opportunity to get away to Hawaii, as one of our friends from her former Bible study was getting married.  While we were in Hawaii, we asked our friend to pray for us.  The next day, the employer called me and offered me a job.  I didn't know what to do.  I was very afraid of moving away from my hometown.  I then remembered something that I learned from my childhood: when you're in trouble, you pray to God and He will help you.  I prayed to God and started reading the Bible.  Partly hoping that I would not get the job and in a way, testing God, I asked the employer for a higher salary and a one month delay in starting the new job in order to complete the move.  To my surprise, the employer agreed to all of my pre-conditions.  I accepted the job offer.  This incident rekindled my faith in God.  I felt that God was calling me back and wanted to show me what it was like to have a relationship with Jesus.  Both my wife and I sensed that what had just happened was a "God thing": there were no coincidences with the marital strife, our longing to get away, the trip to Hawaii, the praying friend, the childhood memory, the job offer, and the job enhancement.  God wanted us to recommit our lives to Him again.  He wanted a personal relationship with us, on His terms.

In 2006, we made the move to Los Angeles and started in earnest to find a church to attend.  With the help of the internet, we found a church in Burbank which we immediately felt at home in.  God began to move in our hearts, and we grew spiritually like never before.  I finally understood what it meant to have a relationship with Jesus and that we each had to have a healthy personal relationship with Him before we could really repair our marriage.  I learned how to become the leader in our marriage using the Bible's model and my wife learned to trust my leadership and fulfill her own God-given role. Trusting the Lord and then in each other freed us up to begin serving in the church in Men's ministry, Women's ministry, and we got involved with teaching the Bible to school-age children.  Now, eight years later, my wife and I are still serving God, recently beginning to mentor a young couple who are new believers in Jesus Christ.

Since 2006, we have been walking steadily with our Lord Jesus Christ.  In 2011, God blessed us with our first child, a beautiful little girl.  She just turned three, and we have been blessed to be able to teach her about our Lord and Savior, Jesus Christ.  We still face challenges all the time, but we earnestly seek God daily and yearn to serve and please Him and are open to wherever or whatever He may call us to.
Would you like to make Jesus the Lord of your life too?
If so, you can pray this prayer - Lord Jesus, I believe you are the Son of God.  Thank you for dying on the cross for my sins and rising again.  Please forgive my sins and give me the gift of eternal life.  I ask you into my life and heart as my Lord and Savior. Please help me grow in you and live for you. Thank you for coming into my heart.
If this message has touched your heart, please let us know your response from the following options:
1. Yes! Today I chose to trust in Jesus: Please click here.
2. I already trust in Jesus and would like to grow in my faith: Please click here.
3. I am still seeking: Please click here.