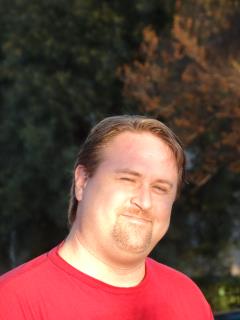 Hi, I'm Steve. I am 41 years old and have lived in Burbank for the past 12 years. I am an editor and filmmaker working in the Television and Film industry.

I grew up in a small working-class college town just north of Grand Rapids, Michigan.  My parents are both Christians and they took me to church regularly.  I also attended a Lutheran school from
kindergarten through middle school.  From an early age, I never doubted God's existence and because I was used to church life and knew the Lutheran Catechism, I thought that I was a Christian.

During my middle school years, my Dad was seeking an alternative to the liturgical style of Christian worship, and started looking around town for another church.  After some hits and misses, he decided upon a church which emphasized Bible teaching, the preaching of the Gospel, and Christian living. After finishing 8th grade, I began attending a public high school, where I was to meet my future wife, Suanne.

At the public high school, I became exposed, for the first time, to belief systems other than my own. One of my classmates, for her oral report, spoke on the topic of "Christianity and Other Religions", concluding that Christianity was just another belief system. I was surprised that she talked about something other than my religious tradition, Christianity.  I wasn't mad at her, but what made me mad was that no one had ever told me about the diversity of other religions and their very different systems of belief, for which I had no answers.

Over the next two years, Suanne and I both attended the local college. I changed my major twice, studying different subjects, while Suanne already knew what she wanted to study. We also made preparations to get married. During our pre-marital counseling, my pastor was adamant that he wouldn't marry us unless we were both Christians. I, of course, believed that I was a Christian, although I had never had the opportunity to respond to an invitation to become one.  The spotlight fell to Suanne, who then got mad and stormed out of the counseling session!  No one was going to tell her whether or not we could get married! But God began doing something in Suanne's heart, and in a few weeks' time, right before my eyes, my pastor led her to Jesus Christ. That summer, we got married.

Since I didn't know for sure what I wanted to major in at college, and Suanne did, I decided to work and put her through school until I figured it out. After Suanne became a Christian and began to grow in her faith, she could tell I was not a Christian, and she began to pray for me. When we began attending Campus Crusade for Christ meetings on the college campus, she asked people at Campus Crusade to pray for me as well.

One day, two years later, Suanne and I watched the "Jesus" film, which depicted the life of Jesus as told by the Gospel According To Luke. At the end of the film, a salvation message was given with an invitation to recite a prayer to become a follower of Jesus.  I silently prayed that prayer in my heart, as an act of my own will putting my faith in Jesus, and Suanne was praying with me.

Not long after, I began to notice evil in my life.  I sensed that I could no longer keep the pornographic magazines that I had collected over the years in our house, and I got rid of them. Through the ministry of Campus Crusade I then poured myself into studying the Bible and comparative religions, and was introduced to the field of Christian Apologetics by some very noteworthy Christian authors such as Josh McDowell and John Ankerberg. Josh McDowell's book, "More than a Carpenter", rocked my world as it laid out in a very logical way the historical and legal evidence for the claims of Jesus Christ, and it presented compelling arguments for Christianity.


As Suanne and I grew in knowledge and in our faith in Jesus Christ, we got involved with leading Bible study groups as "volunteer staff" with Campus Crusade.  When I finally declared my major in Television Production, I made Christian short films and created video content for our local Campus Crusade group. I became bolder and performed in a lip-sync "concert" featuring the song "Jesus Freak" by DC Talk at a campus music contest, as a Christian testimony to a secular university.

Eventually, we moved away so that I could attend film school, and then we moved to California as I pursued a career in Hollywood.

Almost 20 years have passed since I committed my life to Jesus Christ, and Suanne and I have steadily grown in our Christian faith. We volunteer our time at a church in Burbank, where Suanne teaches the Bible in Sunday School, and I lead a small group in the Men's Ministry and also lead a movie ministry where we pray for the filmmakers in Hollywood. We host a Christian worldview teaching series in our home. I also collaborate with other independent filmmakers in the area to help make Christian short films.

Today, I say with certainty that Jesus Christ is real and that Christianity is not just another religion.
Would you like to make Jesus the Lord of your life too?
If so, you can pray this prayer - Lord Jesus, I believe you are the Son of God.  Thank you for dying on the cross for my sins and rising again.  Please forgive my sins and give me the gift of eternal life.  I ask you into my life and heart as my Lord and Savior. Please help me grow in you and live for you. Thank you for coming into my heart.
If this message has touched your heart, please let us know your response from the following options:
1. Yes! Today I chose to trust in Jesus: Please click here.
2. I already trust in Jesus and would like to grow in my faith: Please click here.
3. I am still seeking: Please click here.