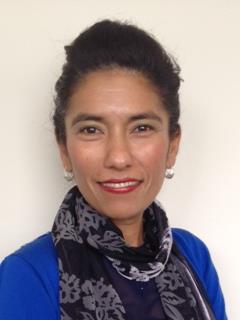 Hello. My name is Vilma. I'm 44 years old and work as a business professor at a local community college. I am married and have two precious teenagers.

I came to faith 11 years ago, but it was a long journey.

I was born into a large family in Guatemala. My father was a widower when he married my mother and brought along two of his sons. Their mother had been a Christian and had taken all her children to an evangelical church every Sunday and midweek.

I was the youngest of five more children when my parents were divorced. After he left, my mother was in a desperate situation; no help, no home, no prospects. Heavy at heart she left us with the older half-brothers, now in their 20's, and came to America. She worked hard at house cleaning and factory jobs, saving up money to bring us here one by one.

Meanwhile, our Christian half-brothers cared for us. They took us to church twice a week like their mother. I had no choice. I had to go. I learned about God and Jesus. I realized that God existed and was sometimes afraid of Him. But I had no belief.

Finally our mother was able to bring my sisters and me – the last of her children – to America. We all abandoned religion when we got here. No church. No God. No nothing. But still, deep in my heart I knew there was a Higher Being.

Several years later my mother was invited by a friend and became the first of us to start attending church. She  believed in Jesus Christ as her Lord and Savior. I saw the difference in her, the way she talked and acted. She invited us to go too, but we all refused. We were busy living life.

I married Jesse, my college sweetheart, who had attended a church now and then with his family. But God was not important to him. We got on with the business of pursuing life, money, and education. Religion had no part in our marriage or lives.

But one day we asked ourselves, "Is this all there is?" We had a home, kids, everything we wanted, but we were missing something. We felt empty inside. We tried filling it with other things to satisfy that emptiness. The result was a big marital disaster, and we didn't know how to fix it. Was this the end of our family with two kids?

Then we learned that Jesse's parents and sister and her husband were searching for something too. Finally his mother said, "Why don't we all just go to church!" and our three families started attending different churches every week. We were so desperate.

Finally, at a church an hour away, we heard the Gospel; that we were enemies with God because of our sin, but that we could have peace in our hearts because of what Jesus did on the cross. God could forgive all the bad things we'd done and welcome us into His family, because Jesus was punished for us and died in our place. We could be clean! It was such good news! Our hearts were full of joy. 

We became hungry to study the Bible. When a pastor talked on a "topic" we were indifferent, but whenever he said "Let's open the Bible," we were mesmerized.

We started attending a small church close to us and began Bible studies. Jesse and I were baptized. We became active in the church, but it was so small we felt we needed something else.

At a Pastor's Conference, where that whole church attended, we heard wonderful teaching from the Word.  It made me want to dig into the Bible and learn more. When we got home we discovered that one of those Conference teachers had a church right around the corner from us. We began attending there.

Becoming a Christian was a process for me. I cannot name the hour or even the day when I believed to salvation. As an academic, I was so afraid of being brainwashed, so I just studied God's Word, searched all the scriptures about being born again and believing in Jesus and trusting in Him. I saw the truth, the power, the authority, the credulity of the Word of God, and how prophecy and archeology backed it up.  It all came together, and one day I said to myself. "I believe!"

The direction of my life changed when I was saved. I was working in marketing at a cigar company. It suddenly hit me that this was not where I wanted to be. I kneeled right there and asked God to take me out of that job. A short time later God gave me an amazing job opportunity at a community college.

It was a temporary administrative job, but it put me in the right place at the right time for another God-given opportunity. By that time I had finished my Master's Degree, so when I was offered a teaching job I was ready.

Meanwhile my sister-in-law began attending Bible Study Fellowship1. She was so hungry for the Bible that she just couldn't shut up. She'd never seen such in-depth personal Bible study, and she started bugging me to attend too. When I reminded her of my full time job, she challenged me to ask my boss for a couple hours off once a week.
I was so afraid to ask, but I finally did, promising to make up the time during the rest of the week. Surprisingly my boss said, "Sure. I'm flexible."

Later I was asked to be a BSF discussion leader which would involve hours off for TWO days a week. Then suddenly my schedule changed, I had classes at all different hours, letting me be available to become a discussion leader.

Then God sent a test. That summer I was asked to be Dean of the college. I felt sure that BSF was the direction God wanted me to go, but this new important job was being handed to me "on a silver platter." What should I do? I asked Jesse and others to pray with me.
Then my mother-in-law said, "Are you sure this is what God wants you to do? Sometimes Satan opens doors too."

With trembling and fear I went to the President of the college and declined the job. I thanked her and offered to work the four months of summer in that position and help her find a Dean. She responded with, "Okay, and thanks. I appreciate your honesty." Then I was afraid that during those four months I would fall in love with the position and not want to leave. I prayed, "God, help me!" and I ended up hating the job.

I remained as a professor at the college and two years later when I was asked to be the Teaching Leader of the Burbank BSF class, I prayed and accepted.

Looking back, I can see the road God led me on since I was a little girl; being exposed to Christian teaching; my marriage struggles which forced me to my knees and to a gospel-based church; my hunger for the Word and the Savior it pointed to; and finally to my job and the opportunity to teach Bible-hungry women about Jesus Christ.
---
1. Bible Study Fellowship International ( www.bsfinternational.org ) An Inter-denominational organization with classes in cities across the United States and throughout the world.
Would you like to make Jesus the Lord of your life too?
If so, you can pray this prayer - Lord Jesus, I believe you are the Son of God.  Thank you for dying on the cross for my sins and rising again.  Please forgive my sins and give me the gift of eternal life.  I ask you into my life and heart as my Lord and Savior. Please help me grow in you and live for you. Thank you for coming into my heart.
If this message has touched your heart, please let us know your response from the following options:
1. Yes! Today I chose to trust in Jesus: Please click here.
2. I already trust in Jesus and would like to grow in my faith: Please click here.
3. I am still seeking: Please click here.