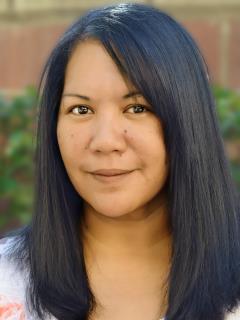 Aloha! My name is Yvonnie and I am 43 years old. I was born in Hawaii and so were two of my three grown kids. All three, plus two grandkids live with me now and I love them dearly. I work as a freelance photographer so I can be home for them.

I've been married to my wonderful husband Rey for six years, but our marriage almost didn't happen... and it was because of Jesus Christ.

I was raised Catholic and attended church on Sundays with my family and on every first Friday of the month at school. I grew up with the knowledge of who God was, but I never viewed Him as someone I could confide in or talk to.

I was 18 when I married the first time. He was in the military and we divided our time between the east coast and Hawaii. After our two girls were born, the marriage ended and I moved back home. I started dating another man and eventually my son was born. It was an abusive situation and he was later jailed.

Because of those failed relationships, when Rey came into my life I was very hesitant to make anything permanent. We decided to try being together for a year to see if it would work. I came back to California with my kids and moved in with him. But instead of one year, we lived together for six years before he proposed marriage and I finally accepted.

Because neither of us attended church, we didn't know who was going to marry us. Rey's sister suggested the pastor of her church and we scheduled a meeting for marriage counseling. I was not happy about it. I put up a fuss and made excuses. I just didn't want to go! But there was no way out.

I left our first meeting with Pastor John in tears. He asked some pretty tough questions that were hard for both of us. To be honest, I was not expecting that. I thought our first meeting would go more like, "Congratulations on your upcoming wedding, etc." Maybe we'd talk about what scripture we wanted read at the ceremony and details like that.

John asked questions that made Rey think about his relationship with Christ and about eternity. Unfortunately, because I didn't want to be there, I wasn't really thinking about what he said.

Our next meeting was scheduled for two weeks later and during that time Rey thought about what the pastor had said. We had several conversations about our faith, and I started to question if my own was real. If asked about it, all I could say was, "My parents told me about God, the priests and nuns at my school taught me about God and THEY said He was real." But I knew that I didn't "believe" in my heart.

When we met with Pastor John the second time, Rey said he had asked God's forgiveness one day when driving home from work. He said he felt different. He had a desire to love Christ, but didn't feel he was there yet.

John's eyes started to water and he said there was "something" holding Rey back. He then asked if Rey was willing to obey God's Word and commit to us living separately. My whole body went tense. What was he asking? Was he crazy?

Then, without even looking at me, Rey answered, "Yes."

At that moment my heart was beating so fast I thought it would burst. John looked at both of us and said, "If one of you is a believer and the other isn't, I can't marry you."

That was it. I started bawling. I cried almost continuously for ten hours. It's weird because at the time I didn't really understand what a believer was. But I knew what John was saying was right. If Rey had a relationship with God and I didn't, it made sense that our marriage wouldn't work. When he said earlier that "something" was holding Rey back, I realized it was me.

I was hurting so badly! I loved Rey so much and thinking that our relationship was ending was devastating.

After we left and drove back home, I needed to be alone, so I drove up into the mountains. I prayed and asked God to open my eyes and my heart and help me. But I felt nothing. In the past I had prayed for help, but I never felt His presence. I had asked for forgiveness, not because I was sorry, but because I wanted to feel better.

That night I wanted to ask God for forgiveness again, but I couldn't do it. It terrified me that I might ask and still feel nothing. I was crying and asking why it was so hard. I asked that over and over.

Then I started talking to Jesus and told Him I believed He died on the cross for my sins; I believed He rose from the dead; and I wanted to love Him. And at that moment I DID feel love for Him. But still I struggled with asking Him to forgive me, knowing I wasn't worthy and didn't deserve it. Why would He save me after all the sinful things I'd done in my life.

Finally after about an hour, I asked God to forgive me. I felt such sorrow and pain like I never had before. God caused my heart to be broken over not only my sin, but for the sacrifice that Christ made in order to save me. My brokenness was because of my sin against God.

I don't know if it was wishful thinking or if I was going crazy, but I heard a voice say, "I love you because you are My child."

Suddenly I felt complete peace. I believe it was at that moment I was saved. On the ride back home I was listening to a CD and the first verse was about letting go of my sin. That's when I realized what had happened. I was a believer. God saved me and I was going to be with Jesus for all eternity.

I started laughing and crying at the same time because I was so happy. Just as I was filled with so much sorrow over my sin a few minutes earlier, I was filled with so much joy because I loved Christ and knew I was loved. It wasn't joy alone, but a physical change took place too. It was like a heavy burden was lifted from my shoulders; a burden I didn't realize was there until it was gone. I had no guilt, no heartache and no worry. God had changed my heart, my attitude, my thoughts, and the way I saw things.

What beautiful gifts God gave me: His son Jesus Christ, salvation in Christ; the ability to grow more and more in love with Him; to see my sin and be able to repent with true sorrow; to marry Rey with a true love and be able to start our life as husband and wife with the foundation of Christ instead of a foundation of sin.
Would you like to make Jesus the Lord of your life too?
If so, you can pray this prayer - Lord Jesus, I believe you are the Son of God.  Thank you for dying on the cross for my sins and rising again.  Please forgive my sins and give me the gift of eternal life.  I ask you into my life and heart as my Lord and Savior. Please help me grow in you and live for you. Thank you for coming into my heart.
If this message has touched your heart, please let us know your response from the following options:
1. Yes! Today I chose to trust in Jesus: Please click here.
2. I already trust in Jesus and would like to grow in my faith: Please click here.
3. I am still seeking: Please click here.