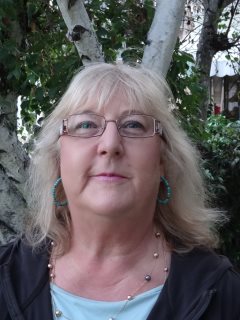 Hello. My name is Kathy. I am 55 years old. When I was 15 years old, I was amazed that a heartfelt decision led me to a series of miracles in my life, as well as in the lives of my family.

When I was 8 years old, my parents took me and my two brothers to a local Lutheran Church in San Diego, CA. Up until then, I had never been to a church. I recall we only attended that church on and off for about 1 year. My parents never talked about God or Jesus and I don't even remember if we had a Bible in the house. I do remember, however, sitting in that church and asking my dad about a book in the pew which had the title "Good News for Modern Man": "Dad, what is the good news for modern man?" My Dad never answered that question, because my brothers then began talking and acting up.

We lived a comfortable life.  Both of my parents had college degrees: Dad had a degree in engineering, and Mom had a degree in Chemistry.  Dad had a steady job as an engineer, and Mom stayed at home to take care of me and my brothers.  

When I was 13 years old, we moved from San Diego to Canyon Country, CA. I left all my friends behind and the home that I had known.  The year was 1972, and the recession hit the national economy hard, and companies were laying off their engineers.  My parents did everything they could to keep us from becoming homeless.  My parents took a big chance by selling everything we owned, bought a liquor store in Canyon Country, CA, and rented a tiny house.  The liquor store was open from 7am to 2am, which meant that Mom worked days while Dad worked nights.    So here I was, no friends, most of my belongings I was familiar with were gone, living in a small house, and the only time I saw my parents was when I would go to the liquor store after school to help.  Needless to say, I was miserable.  My life was in a complete upheaval.

My parents' business boomed and we then moved into a huge house out in the country. The home was located in Angeles National Forest, and we were one of the few homes allowed to build in this protected region. Yet, I remained miserable. In one instance, I remember when I was 14 years old, that I was out wandering in the mountains alone.  I cried out to God shouting, "Are you REAL God? Where are you!" I cried and cried. I was lonely and confused. I hated school. I hated my parents for moving us to this awful place. My brothers were always fighting and arguing with each other. My little sister, who was born right before the move from San Diego, was only 4 years old, and I'm sure it was difficult for her. I just remember that I always felt alone and lost.

One day, in high school, one of my classmates asked me if I wanted to go to a concert at the local high school. I was thrilled. I wanted to go to a concert and party and have fun!  The songs played, I enjoyed the loud music, I loved all of it...not knowing the whole time that they were singing Christian songs! At the end of the concert, the lead singer gave an invitation to anyone who wanted to ask Jesus into their heart. I started crying and I couldn't get to the front of that stage fast enough! I felt that God was talking directly to me to make a change to my life and accepting His free gift of salvation. Right there, in Hart High School's auditorium in Newhall, CA, I gave my heart to Jesus at 15 years of age. I was SAVED!

That night when I went home from that concert, I told my parents: "I got saved."  Mom mockingly said, "You're saved? What...were you lost?"  I told her that I found Jesus. Her response was " He was never lost."  There were some rough days ahead. I stopped hanging out with the few people in school I knew were the bad kids, and I started hanging out with the "Jesus Freaks", as we were called in High School: we had Bible studies on the lawns at lunch, we told our fellow students about Jesus, we went out telling people about Jesus in and around our neighborhoods, and we met every Sunday at a local park and had church. Our pastor was named Ernie and he had long black hair that fell down to the middle of his back. We were all "hippies" in our jeans and t-shirts showing up for church in the park every Sunday and singing about Jesus. Pastor Ernie preached the Bible with conviction and I learned a lot about mankind's hopeless sinful condition, God's love for sinners, the significance of Jesus' death on the cross, and salvation by placing one's faith in Jesus. I look back now and feel blessed that God had led me to such a lively, Bible-teaching church....even though we were just a bunch of hippies hanging out in the park every Sunday and praising Jesus!

At school, I told everyone that they needed to be saved from Hell by putting their faith in Jesus, and I also continued to talk to my parents about Jesus, but to no avail. One morning, I gave my parents news that I had given Pastor Ernie permission to use our house as a meeting place for the hippie church, and that all the people from my church would be at our house that night. My parents were not thrilled. As all my friends from church poured into our house, we sang about Jesus in the living room and Pastor Ernie preached. And then, that's when a miracle happened: some of my church friends started talking with my brothers, and to Mom and dad, about Jesus.  Over time, my brothers and my sister, too, made decisions to follow Jesus.  Eventually, Dad returned to his Baptist roots and admitted that he did miss church and reading the Bible.  He later made a decision to become a Christian. Mom stayed staunch in her dislike of all religion for many years afterwards and told me endless stories about how her ultra-religious upbringing left a bad taste in her mouth.  It all took some time, but I just kept believing that God would save my entire family.

I am happy to say, Mom is in her 80's now, and after years of talking with her about God, (and probably some loving prodding from my brother and Dad), she finally admitted to me that she has made her peace with God and she too has a heart for Jesus.

I feel honored that God called me out first in my family to have a relationship with Jesus at the age of 15. I didn't always walk the straight and narrow path that I should have. The good news is that Jesus took His hand in mine, and led me back when I strayed too far from Him. I strayed in college and stopped going to church in my 20's when my hippie church dissolved. I feel blessed Jesus took me back after all those years that I had strayed away from Him..

Today, I have two grown sons who love the Lord, live their lives as Christians,...and they have known Jesus all their lives. That's a miracle to me, as I had grown up in a family where I had never heard the glorious name of "Jesus".
Would you like to make Jesus the Lord of your life too?
If so, you can pray this prayer - Lord Jesus, I believe you are the Son of God.  Thank you for dying on the cross for my sins and rising again.  Please forgive my sins and give me the gift of eternal life.  I ask you into my life and heart as my Lord and Savior. Please help me grow in you and live for you. Thank you for coming into my heart.
If this message has touched your heart, please let us know your response from the following options:
1. Yes! Today I chose to trust in Jesus: Please click here.
2. I already trust in Jesus and would like to grow in my faith: Please click here.
3. I am still seeking: Please click here.