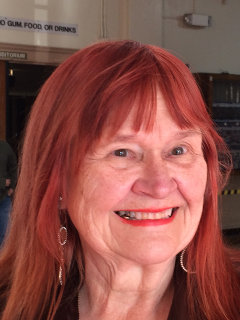 I loved that 12 string guitar which served me so well for years.  I am not a professional musician, but I value music and that guitar helped make it happen.  I played it often, usually with friends and in small groups.  We often used it to sing hymns and to praise the Lord.  The day came, however, when my husband Lynn and I were unpacking after a meeting.  We unloaded the car and that is the last time we saw it.  Later when I went to get my guitar it was gone.  We searched carefully, double checked the car, behind chairs, and all the probable places; but could not find it. It was gone.

We waited for a couple of weeks hoping somehow it would show up.  Now we love God and He has answered prayers many times so naturally we prayed that He would restore it to us.  A nice acoustic guitar is kind of expensive, and one with 12 strings is even more so.  While we were asking God and waiting for His response we decided to drive around to pawn shops, used merchandise stores, and music shops to see if it might have turned up in one of these.  But we never found it.

After a couple of months we gave up looking for the guitar, although we continued to pray, and decided just to buy a new one. We set a top price of $500.  This was a lot of money, but we felt it was worth it.

Over the years we have become friends with a few professional musicians and we are especially close to Barry McGuire and his wife.   Now it happened at the time we were ready to buy that Barry was in town for a show.  So we planned to tell him what happened and to ask him to join us to the music store to help us choose a good instrument with the $500 we set aside.  When he came down from Fresno he didn't know my guitar was missing.

However, when Barry arrived and we asked his help, he surprised us by saying that he had recently seen Laurie, an old friend.  And she had just asked Barry if he would see if someone in the L.A. area would buy her old guitar.  This is not something Barry usually did, but he did it for the friend's sake, not knowing who would possibly want it; and he put it in the back of his car.  The guitar had been given to Laurie by a close friend years ago and actually was a very expensive custom made Yamaha constructed like a high quality 12 string Martin and not like something you might just buy off the shelf.  Ah, and it had a beautiful sound as you would expect from any expensive custom guitar.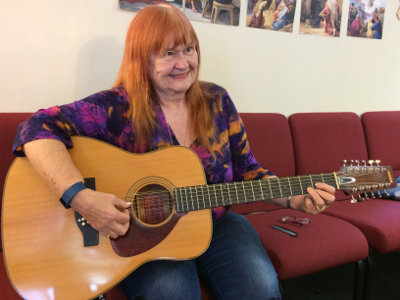 Now Laurie, knowing that it was a valuable guitar but not wanting to go through the trouble and heartache of selling it, had specifically said that she would be happy if Barry could sell it for $500, case included.  At this time Laurie and Barry did not know that I needed a new guitar.  It just happened this way.  And at exactly the price we could afford.

So we bought Laurie's guitar.

Here is a good way to think about what happened.  God was so kind to draw us to Jesus His Son a number of years ago that we love to sing and praise His name.  Our guitar is part of how we do this.  When the guitar disappeared and we asked for it back, God seemed to say, "I am pleased you were content with the old guitar, but I want to you to have one much better, because I love you. Enjoy it."

This is how God answered our prayer.  Diane.
Would you like to make Jesus the Lord of your life too?
If so, you can pray this prayer - Lord Jesus, I believe you are the Son of God.  Thank you for dying on the cross for my sins and rising again.  Please forgive my sins and give me the gift of eternal life.  I ask you into my life and heart as my Lord and Savior. Please help me grow in you and live for you. Thank you for coming into my heart.
If this message has touched your heart, please let us know your response from the following options:
1. Yes! Today I chose to trust in Jesus: Please click here.
2. I already trust in Jesus and would like to grow in my faith: Please click here.
3. I am still seeking: Please click here.