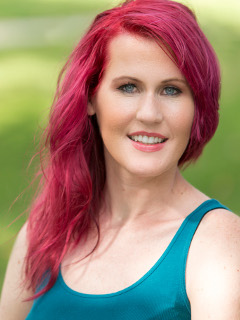 I'm Tracy.   I was raised in Glendale, California.  I have an older and a younger sister.  Me and my younger sister, Kelly, are identical twins.  I am in the middle by only a minute; Hollie is a few years older. My earliest memories are of being with Kelly.  Growing up, we did everything together: Kelly was my ally, my partner in mischief, and close confidant.  As kids, we had our inside jokes, sometimes by just a look, not even speaking out loud.   We were content just by being together and enjoying simple things.  She was my faithful companion and we knew that we could always depend upon each other.  

Dad and Mom committed to live their lives for Jesus Christ before we were born.  We grew up at a large, dynamic church in the San Fernando Valley during the 80's and 90's.  When Kelly and I were about 5 or 6 years old, we heard the Gospel of Jesus Christ. It seemed to be a reasonable thing to believe that the Bible was God's Word, we were sinners, and because of God's love, Jesus died for our sins and we could go to Heaven.  Kelly and I confessed our sins and believed in the Gospel.  

When I was 7, we saw the movie, "Without Reservation", a Christian movie which my Mom said would challenge people to know the Lord.  It made me think about whether I was a real Christian or not. What I decided about God and Jesus before I died would determine the course of my eternity: Heaven or Hell.  Would I be saved from Hell?  The notion made me afraid, despite understanding the Gospel.  Later, in the privacy of the bathroom, I decided for myself to re-commit to follow my Lord and Savior, Jesus Christ, with my whole heart.   After praying to Jesus, I felt like a big weight was lifted from me.  I had peace that I was saved!  My family and I continued enjoying the Christian community and music scene by attending Christian concerts.

As Kelly and I entered our teens, we felt like we couldn't make social connections with the kids at church, because we were not from the same area.  Kelly and I stopped going to church.  After awhile, my parents and Hollie also stopped going to church.  We didn't stop being Christians.  My parents improvised by having family devotionals at home on Sundays.  It was our parents' interest in rock music that got us into the Christian music scene and my Mom's involvement in a Bible study which got us excited about going to church again.  

Our parents supported our growing interest in music. From grade school through high school, we sang in school chorus, and after our "Sweet 16", Kelly and I began learning classical guitar.  When we transitioned to electric guitar, Hollie joined in with us.  As a threesome, we were obsessed with music, singing, guitar playing, and writing our own music.  We formed a 3-sister band and we would play at coffee shops and for a Sunday night church college group in Temecula, California.

Around the same time, my Mom started going to a midweek Bible study at a church held at a local park.  Our Mom's enthusiasm about the study got us interested in that Bible study.  I really enjoyed the minister's teaching.  He was a cowboy minister and evangelist.  He wasn't a pastor at the time (he is now).  We met on Wednesday nights at McCambridge Park in Burbank.  He didn't come across as a "know-it-all", but he was a real person and he spoke in a way that made the Bible easy to understand.  When the pastor found out that my sisters and I could play guitars and sing, he encouraged us to use our gifts and lead worship at the Bible study.  We performed our music in front of many groups before, but we felt a little nervous about leading people in worship.  Once we started, though, we loved it.

Following our interest in Christian music, Kelly and I worked for a Christian radio station, covering concerts, taking photos, doing interviews with Christian bands, and doing Christian band news and Christian music industry news.

Most people thought Kelly and I were the same person, and while we shared a lot of common interests and experiences together, we were also becoming two very different women.  I felt valueless by friends and church family when I didn't do exactly what my sisters did.  I battled with depression and suicide as a result of feeling overlooked.    Thankfully, my parents were always supportive of what I wanted to do.  

My interests took me into the world of make-up artistry, working for the film industry.  I am working as a freelance make-up artist as I continue in jobs as a coffee shop manager.  

When Kelly announced that she felt God was calling her to take the Gospel to Africa, I immediately knew I needed to support her decision fully.  I didn't want to hold her back.  She was going to be gone for a full month, which was a big deal since we had always done everything together. When she left, it was hard being separated from her.  During that time, God revealed something precious to me: when I am praying for Kelly, there is no distance between us!  This gave me much peace.  When Kelly returned from her journey, I had to get to know her all over again, because she changed a lot: she was more confident and she had direction for her life.  I was so happy for her!

I think that God uses people and circumstances to teach me about God and His ways.  The close relationship which I share with Kelly is like God's relationship with me: His love is unconditional and He is faithful to keep His promises, no matter what.  And even though there are times filled with trouble, God cares enough about me to strengthen my character through them and show me that I matter to Him.  He does not compare me to anyone else, but He sees me as I am; and that gives me peace.
 
Friend, I have something important to share with you: you, too, can have peace with God.  Right now, God sees you just as you are.  You are not hidden from Him.  Pretty scary, huh? But, God is merciful and gracious, and slow to anger and abounding in love. He knows everything there is to know about you; and yet, He loves you.  He accepts you.  He wants a relationship with you.  Will you take a small step to receive God's love for you, by putting your trust in Him?
Would you like to make Jesus the Lord of your life too?
If so, you can pray this prayer - Lord Jesus, I believe you are the Son of God.  Thank you for dying on the cross for my sins and rising again.  Please forgive my sins and give me the gift of eternal life.  I ask you into my life and heart as my Lord and Savior. Please help me grow in you and live for you. Thank you for coming into my heart.
If this message has touched your heart, please let us know your response from the following options:
1. Yes! Today I chose to trust in Jesus: Please click here.
2. I already trust in Jesus and would like to grow in my faith: Please click here.
3. I am still seeking: Please click here.